Creative Dying Card Game
A downloadable game for Windows, macOS, Linux, and Android

Creative Dying
--A philosophy that aims to bring together ancient wisdom with modern palliative care to facilitate healing and approach death as a time for growth--

Content Note:
Creative Dying Card Game asks players to be open and vulnerable with one another about their feelings, beliefs, experiences and personal preferences. In these conversations, it is possible that painful or difficult topics may be explored, and challenging emotions may arise and be expressed. Offer non-judgemental support for suicidal ideation or self harm coming up in conversation. If you find that difficult emotions arise while playing the Creative Dying game, we encourage you to look to the Code of Conduct and each other for support, and to reach out to a trusted companion.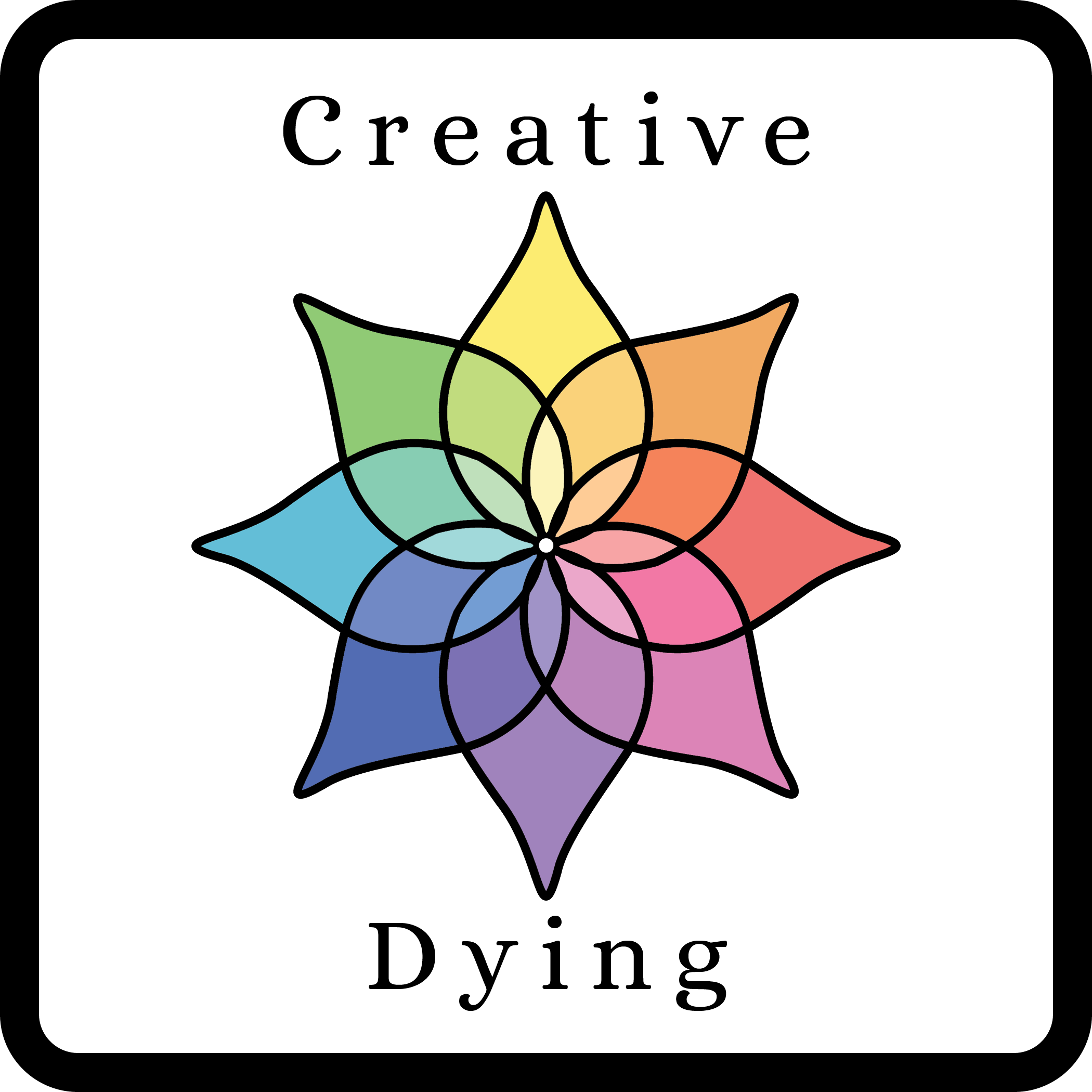 Gameplay:
1 - 8 Players
Ages 12 +
15 minutes - 2 + hours
6 different gameplay modes for Single Player, Two Player, and Multiplayer game play
About:
"You know you have a certain time left, and then the question is, 'What is important for me to do in that time?' - That's different for everyone, so talking about death, for me at least, is the ultimate prioritization exercise."
- Jon Underwood, Founder of Death Cafe Movement

Creative Dying is a conversation card game with the intention of offering a low-stakes, accessible way to have meaningful conversations about life and death. Although we often avoid conversations about death, talking about this topic can be liberating, important and practical.

In playing the Creative Dying card game, we hope that you might experience greater insight and connection to yourself, to other beings and to the rhythms of life.
This game is part of the larger Creative Dying Project, whose mission to start conversations about death, encourage end-of-life planning and establish dying centers that are inclusive, community-based and psychedelic-friendly.
Learn more about the design, background, and designers here.

* Death Cafe was established by the late Jon Underwood in 2011. The Creative Dying Game is not associated with Death Cafe, but rather was inspired by the open model of talking about death.

Disclaimer:
Playing this game does not substitute for having discussions with healthcare providers about your end of life wishes and/or preparing an Advanced Directive, Living Will, or other legal documents. Preparing these legal documents can make it more likely that your preferences and wishes will be honored.
This game was created collaboration with friends at the Creative Dying Project. 80% of proceeds from the decks will be used to support work of the Creative Dying Project (establishing a inclusive, community-based, psychedelic-friendly dying center) & 20% will be used to support future Affinity Games projects.


Contents:
88 prompt cards (176 prompts)
1 Code of Conduct Card (front and back)
7 Gameplay Cards (front and back)
Box (physical edition on, coming soon)
Versions Available:
Free Print-and-Play downloadable PDF
Free Online Card Browser Version (below)
Physical edition -$32.99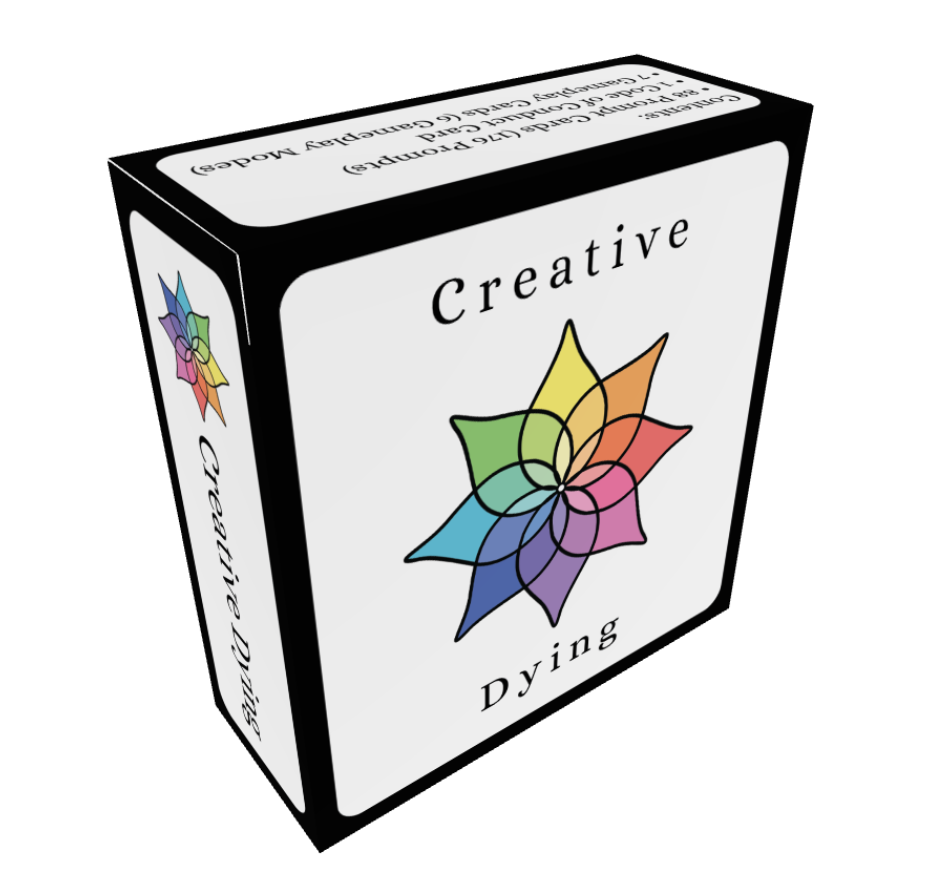 From our Playtesters' Feedback:
"This is a very important tool to enhance people's life and clarify their wishes upon their death."
"It opened up thoughts about life/living."
"After playing I have asked several of the questions to other people, what a great conversation starter!"
"My favorite thing was having a safe space to connect and be vulnerable, to hold conversations that might not otherwise have been held with other open-minded people."
"I loved that it created connection within myself and between those I played with. I felt a sense of freedom and understanding building inside as time went on. I think we could have played all night. I also think the visual design of the game is simple and beautiful. The online version is amazing as well. It really improves the completely-free experience of game play in my opinion."
"Talking about death helps normalize it." "I think the way I might experience grieving in the future could be positively impacted by playing. My thoughts or feelings about living day-to-day life were impacted as well. Especially in the realm of relationships and personal healing."
"I earned my vulnerability card. I got to express difficult experiences and emotions in a safe space. I got to learn things about my partner's inner (and outer) experience."
Design:
The Creative Dying card game was inspired by conversations at Death Cafes* and by firsthand experiences of how acknowledging grief and death can help us live more fully. The game is influenced by color theory, the color wheel used by artists to mix pigments, the Kubler-Ross model of grief, Death Cafe, Death Over Dinner and a Westernized version of the human Chakra system. This game is part of the larger Creative Dying Project, whose mission to start conversations about death, encourage end-of-life planning and establish dying centers that are inclusive, community-based and psychedelic-friendly.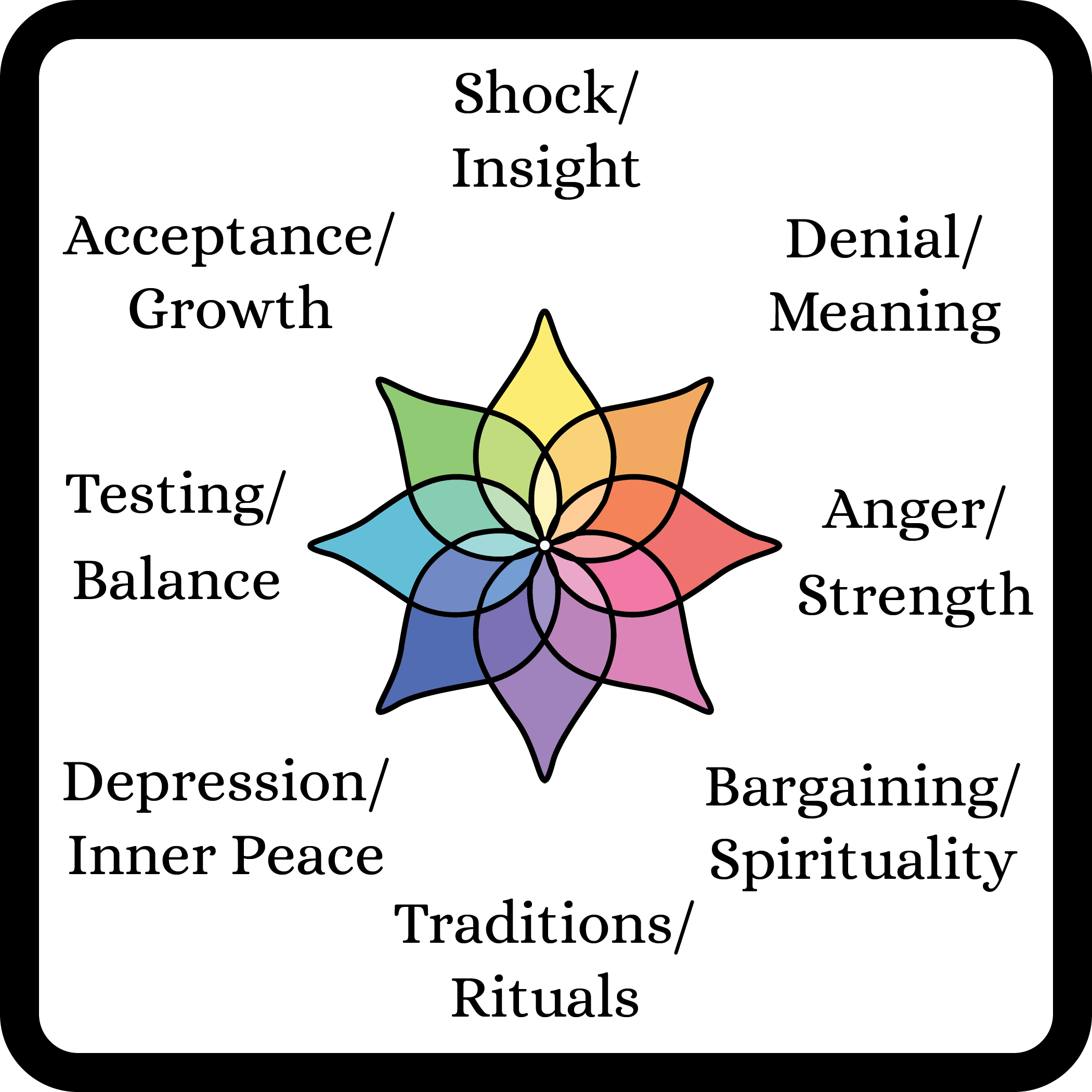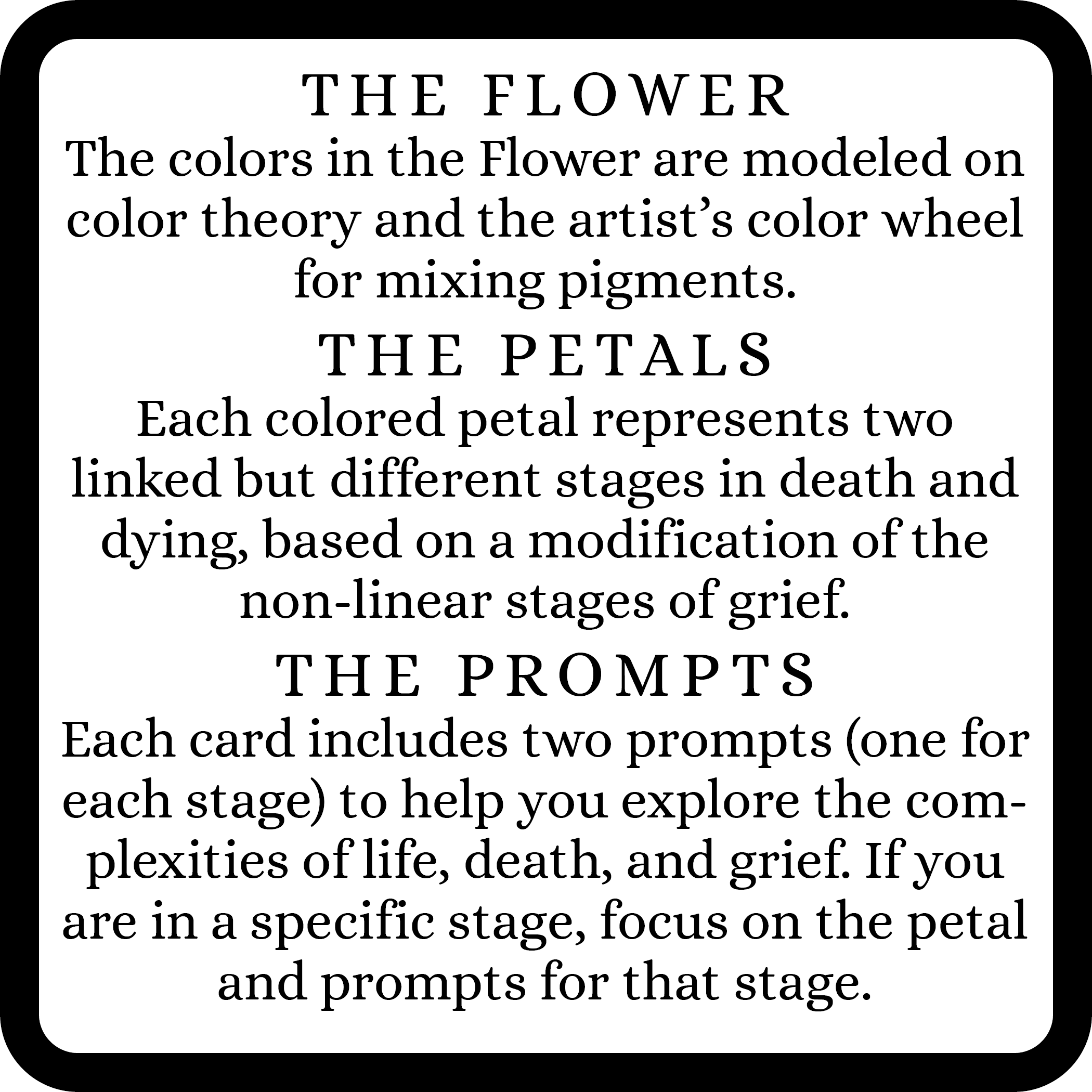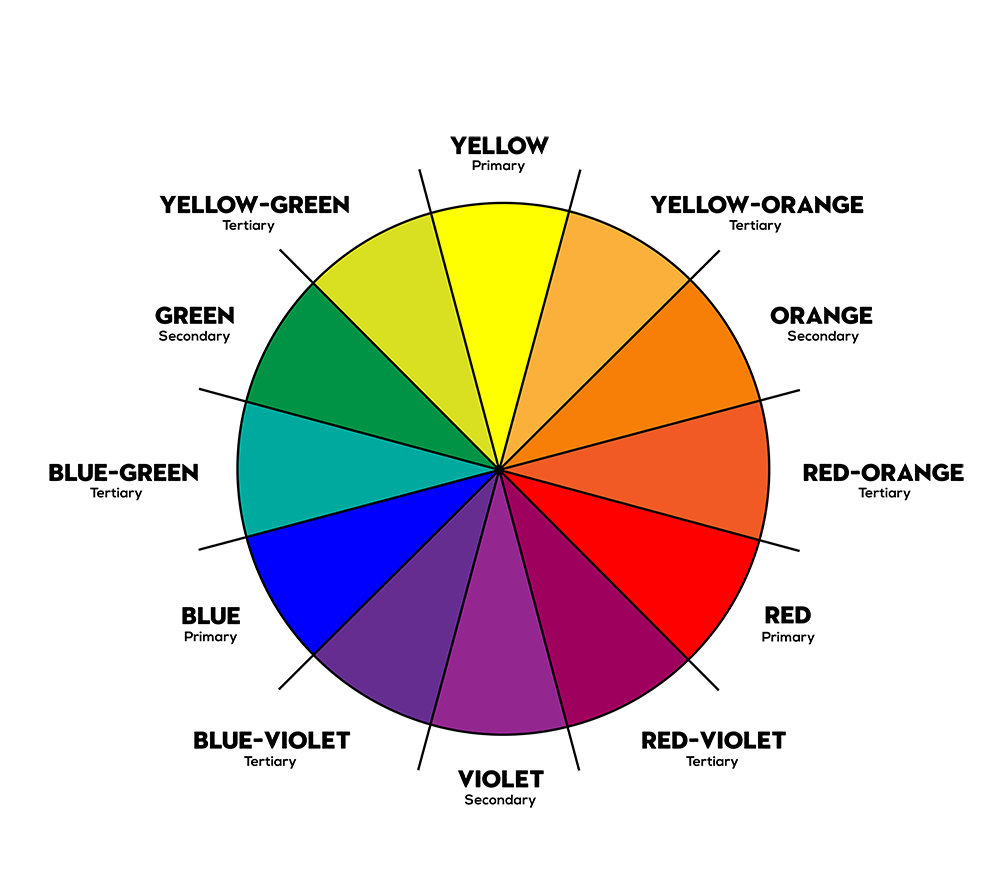 A color wheel used by artists for mixing pigments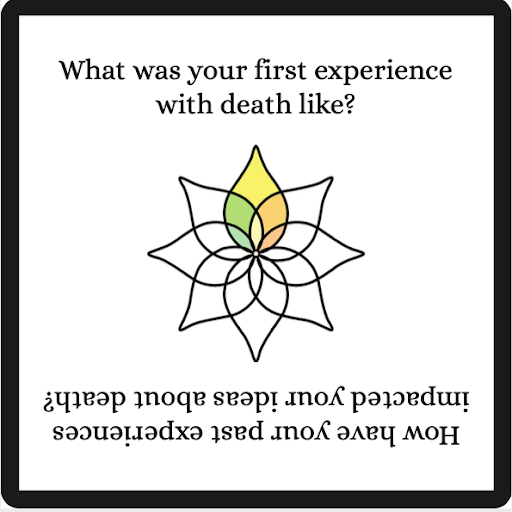 A Shock/Insight card
Free Online Card Browser:

Game Play Instructions for In-Person and Remote Play: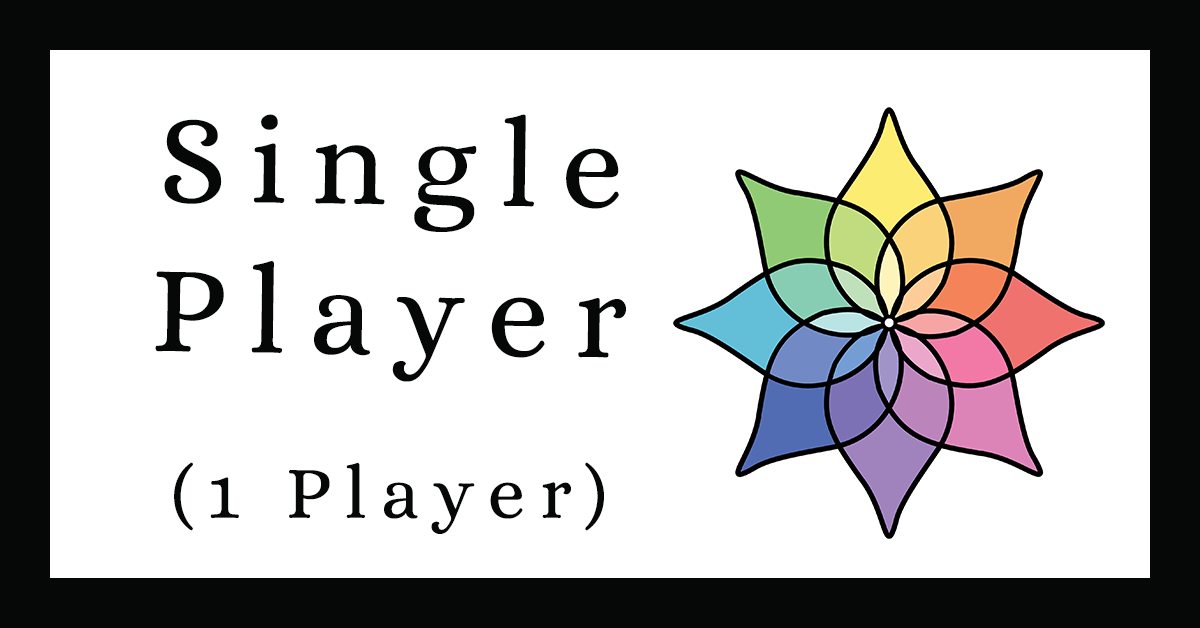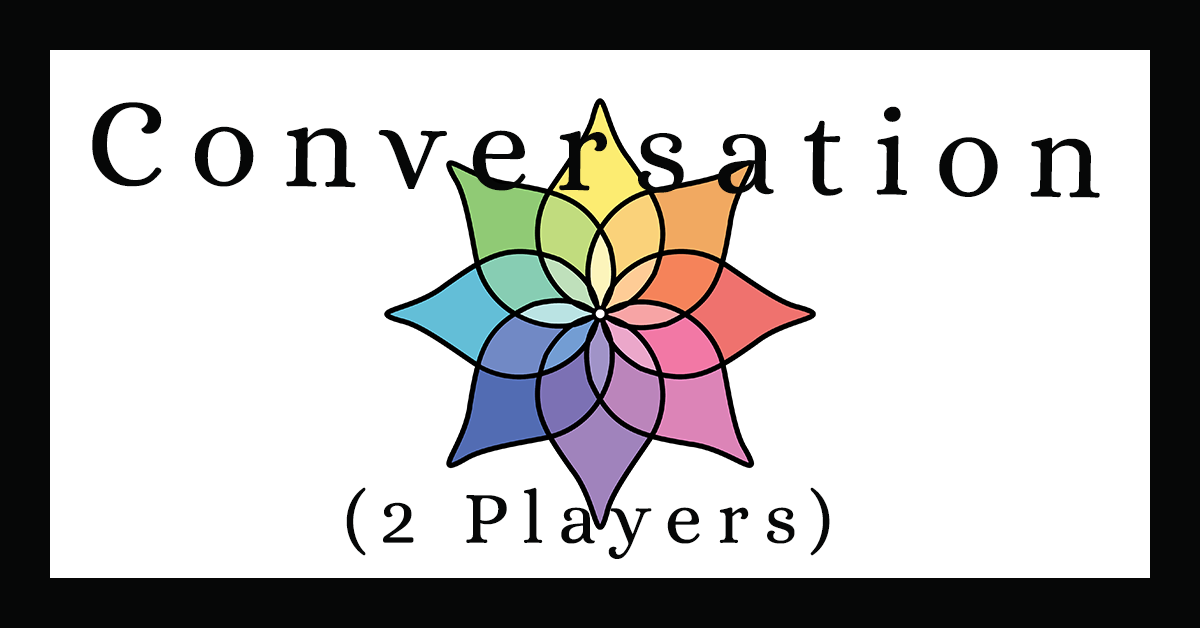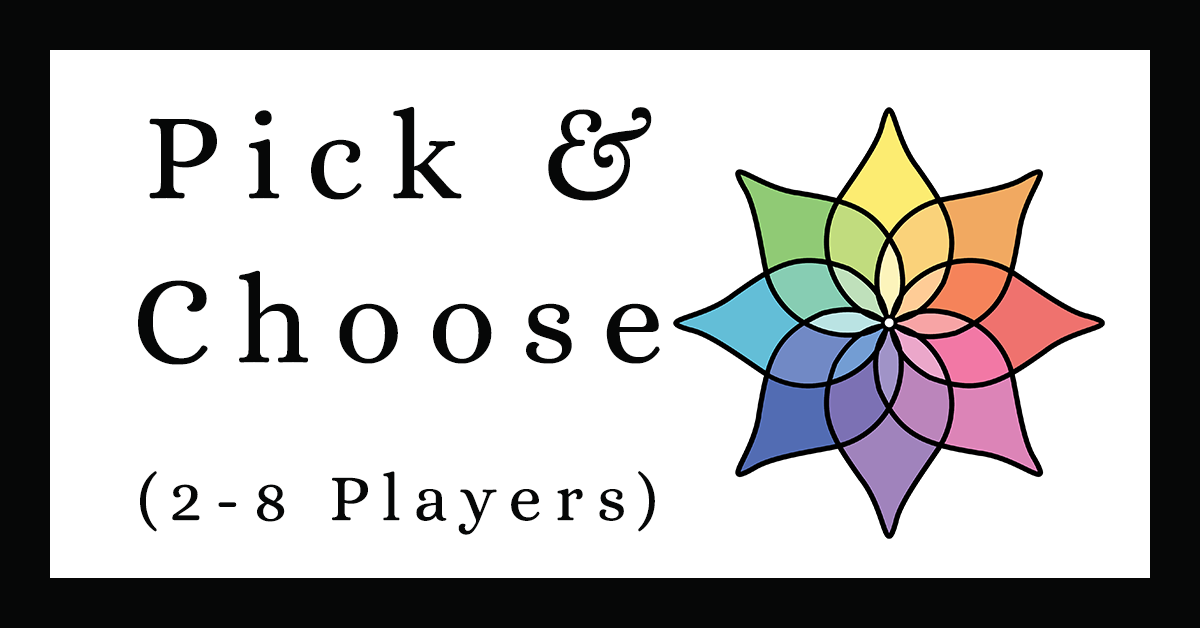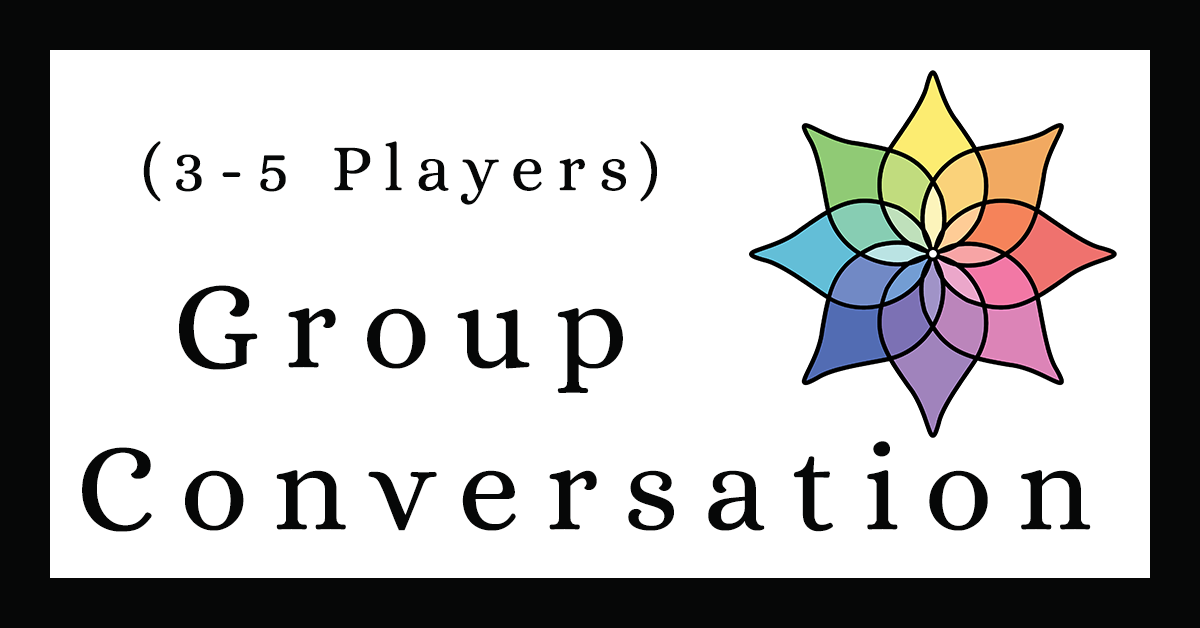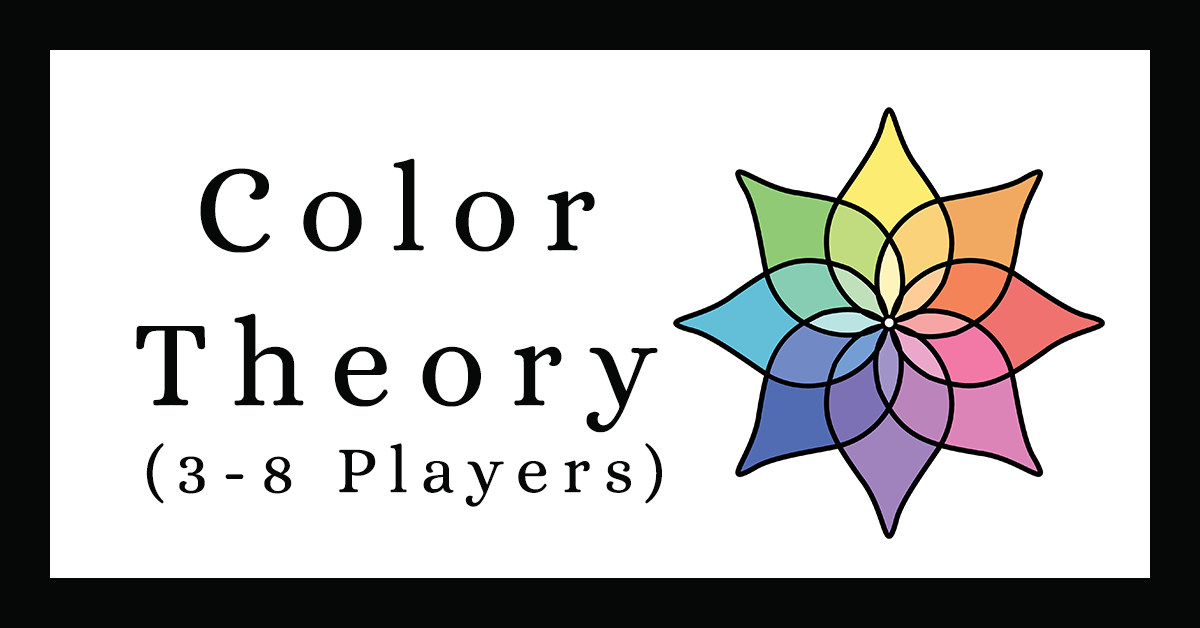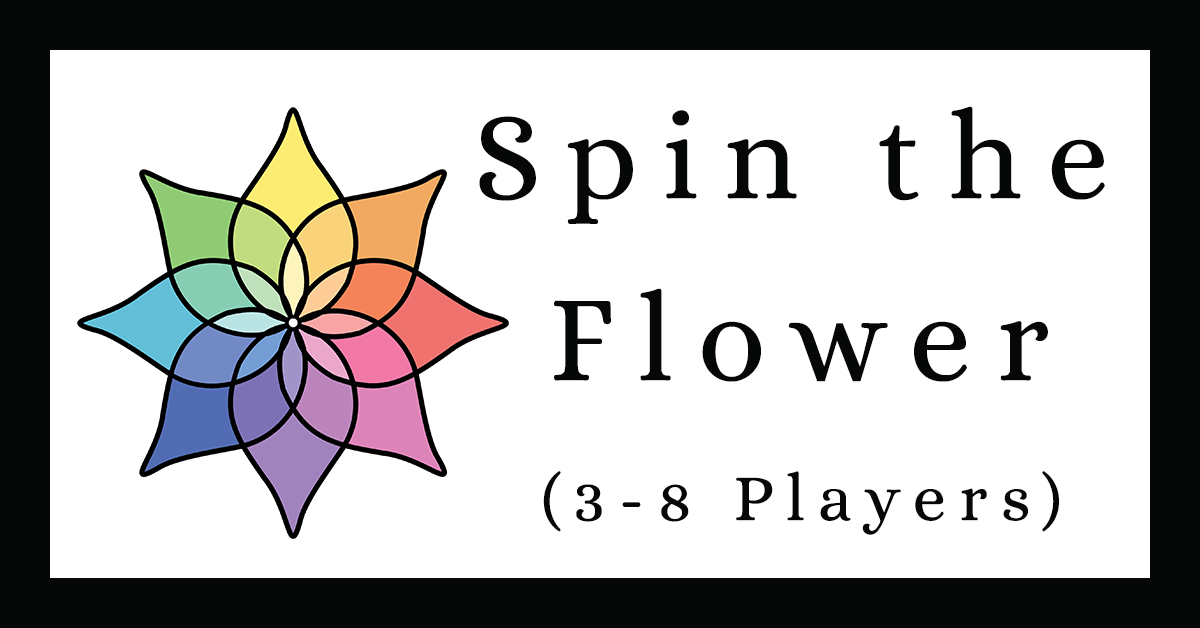 This work is licensed under a Creative Commons Attribution-NonCommercial-ShareAlike 4.0 International License.
| | |
| --- | --- |
| Status | Released |
| Category | Physical game |
| Release date | May 01, 2021 |
| Rating | |
| Author | Affinity Games Collective |
| Genre | Card Game, Educational |
| Made with | Adobe Photoshop |
| Tags | Altgame, Casual, Experimental, GM-Less, Local Co-Op, Multiplayer, Singleplayer, Text based |
| Asset license | Creative Commons Attribution_NonCommercial_ShareAlike v4.0 International |
| Average session | About an hour |
| Languages | English |
| Inputs | Mouse, Smartphone |
| Multiplayer | Local multiplayer |
| Links | Game Crafter, Homepage |
Download
Click download now to get access to the following files:
Creative Dying P2P PTP 2X2.pdf
855 kB