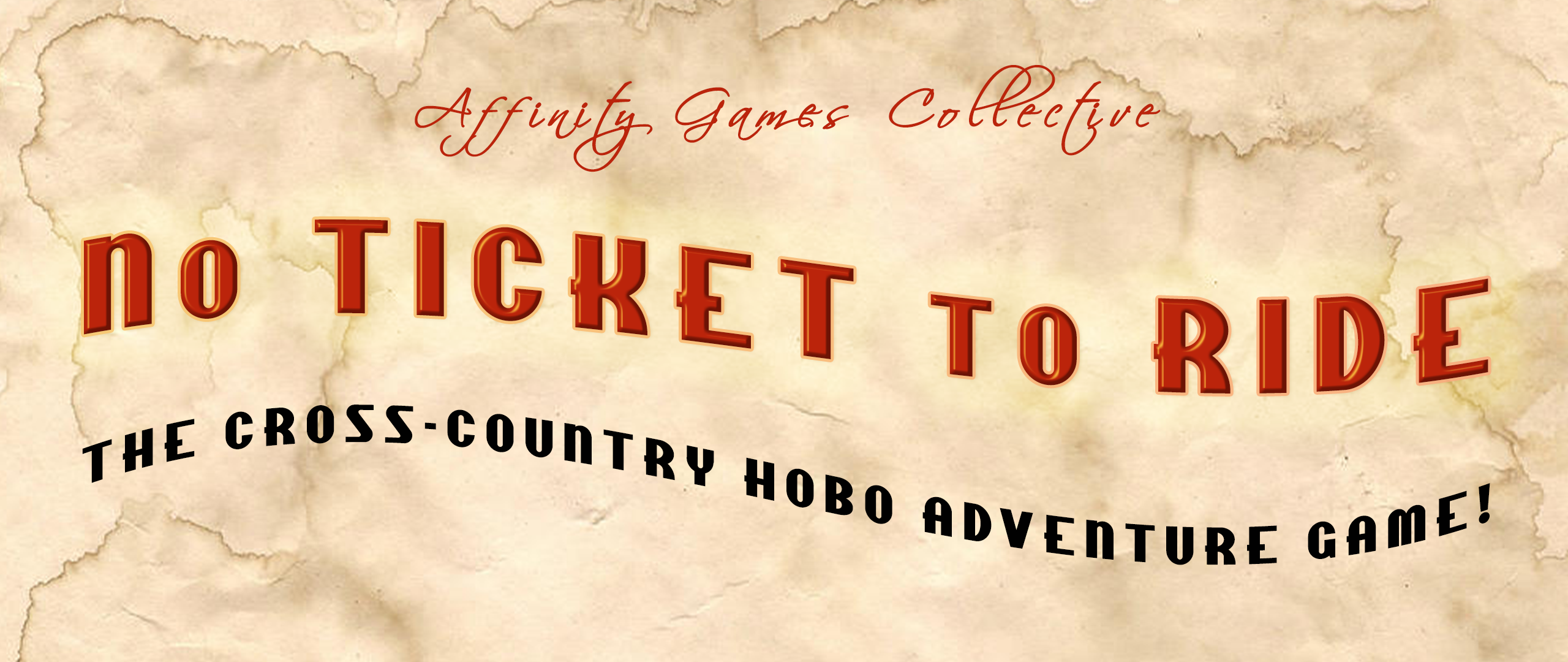 No Ticket to Ride
No Ticket to Ride is a cross-country hobo adventure. Players cooperate to help each other get to jobs by catching out trains on a map of North America.
This is a hack of the board game Ticket to Ride by Alan R. Moon and published by Days of Wonder.
For 2-5 Players
Ages 8 and Above
30-60 Minutes
Story
On a warm spring evening, a group of hobos camping in a hobo jungle near the city's railroad made plans for the coming season, where they wanted to travel and what kinds of work they might look for. Life and work had changed since the Civil War and the series of financial crashes and economic depressions that followed.
The old jobs that had been plentiful and reliable were now hard to come by, and tramping became a way of life for many. They travel often, some for the love of the open road, some to find odd jobs or seasonal jobs, often it's a bit of both. With little work and little money, they need to help each other survive and save money by catching out, hopping freight trains and avoiding the local bulls who patrol the railyards.
Components:
No Ticket to Ride is a 5 page downloadable alternative ruleset to Ticket to Ride.
REQUIRES: A copy of Days of Wonder's Ticket to Ride by Alan R. Moon.
EVERY PLAYER is required to bring a distinct bottle cap, or the game's host can provide them. Each player uses this bottle-cap as their new Hobo Marker on the board. When players are co-located in a city these bottle caps can be stacked on one another.
OPTIONAL: Bring and share food with other players and earn points, whoever brings the best food earns the title of Crumb Boss and earns more points!
UP YOUR ROLEPLAYING GAME:

Wear durable work/travel clothes
Wear a hat to keep the sun and rain out of your eyes
Listen to the playlist below while playing the game
Play outside (weather permitting)
Play outside and enjoy an outdoor fire or grill (weather permitting)
Cook hobo-themed recipes (see links below)
Bring and share easy portable snacks that aren't processed foods that would be good for the road, for example: nuts, dried fruit, in-season fruit.
Hobo-Themed Recipes
Some Hobo Tunes to Listen to While You Play:
Help us playtest this game!
Email us your feedback at comrades@affinity-games.com. Playtester's names will be added to the Credits section on page 5.
This work is licensed under a Creative Commons Attribution-NonCommercial-ShareAlike 4.0 International License.
Download
Click download now to get access to the following files:
No_Ticket_to_Ride_V2.pdf
6 MB
No_Ticket_to_Ride_Simple_BW.pdf
3 MB