(Not Such a) Fiasco
FIASCO
FIASCO is an award-winning, GM-less game for 3-5 players by Bully Pulpit Games, designed to be played in a few hours with six-sided dice and no preparation. During a game you will engineer and play out stupid, disastrous situations, usually at the intersection of greed, fear, and lust. It's like making your own Coen brothers movie, in about the same amount of time it'd take to watch one.
(Not Such a) Fiasco
The original Fiasco Classic is a highly collaborative GM-less storytelling game that nearly always ends in failure, death, dismemberment… Well, in a fiasco. That's kind of the point. But what if you want something a little more… Well, not such a shit show?
(Not Such a) Fiasco is a modified, softer Tilt and Aftermath very much based on the original Fiasco, which we hope will enable different kinds of endings and opportunities we wanted to play with and wanted to make available to players. In (Not Such a) Fiasco, things can and will certainly go wrong, but it's not so inevitable that they end in a fiasco. The goal of this mod is to expand the kinds of tales that players can generate.
(Not Such a) Fiasco uses the softer Tilt Table and a modified Aftermath to enable borked endings less likely. These are based off the work of Ronald Tobias' 20 Plots and Georges Polti's The Thirty-Six Dramatic Situations.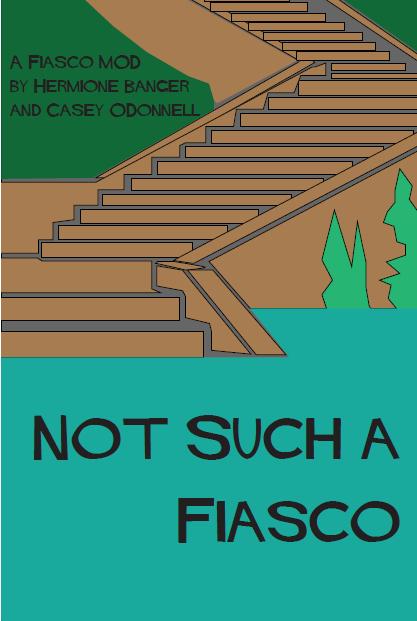 Includes:
Modified Tilt
Modified Aftermath
Requirements:
3-5 Players
2-5 hours
Printer
Lots of Dice
Instructions:
Download pdf. Print and play with 3-5 players, can be played virtually over video chat. Check out their downloads for supplemental and preview materials.

Check Out
Check out the Fiasco Classic edition for how to play, get a print or digital copy.
Check out The Fiasco Companion to read about the common pitfalls and solid techniques for making Fiasco playsets and hacking the rules, rules variants, new Tilt and Aftermath tables and more! Get a print or digital copy.
Also Check Out
Fiascomputer- An open-source tool for automatically generating Fiasco setups, upload your PDF and a digital setup comes out for others to play.
Submit Your Playsets to Fiasco Playsets-An easily browsable, mobile-friendly list of FIASCO Playsets intended to make finding, downloading, and playing any FIASCO playset as easy as possible.
FiascoMobile- FiascoMobile is the most convenient way to carry Fiasco playsets with you on the go. It is designed specifically for use on a mobile device.
Fiasco Mustache- An open source playset editor for Fiasco that generates a PDF.
DIY Fiasco Playset Creator for Fiasco 2.0- from Bully Pulpit Games, create a playset for Fiasco 2.0 and make print and play cards for your playset.
Credits
Fiasco is copyright 2009 by Jason Morningstar. Color plates are copyright 2009 by John Harper. All rights are reserved. If you'd like to create Fiasco-related content, we'd like to help. Write us at info@bullypulpitgames.com.
Bbackground image for this itch.io page comes from Fiasco by Jason Morningstar, second printing 2010. Background art by Robert Poppe. Has been modified to change colors.
This is an unofficial, fan-made playset template for Fiasco. Bully Pulpit Games is in no way affiliated with its content. For more information, see https://bullypulpitgames.com/games/fiasco/license/ FIASCO™, the FIASCO™ logo are trademarks of Bully Pulpit Games LLC. All rights reserved.
Download
Click download now to get access to the following files: